Bottle that allows you to dilute products to the ratio of your preference. Quality trigger spray that has chemical resistant seals to help pro-long the life of the trigger.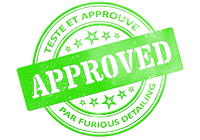 What does this label mean?
VALET PRO Chemical Resistant Sprayer is perfect for anyone who wants to dilute their concentrated products.
It combines all the advantages that can be expected from a sprayer. The spray can be adjusted as desired thanks to its screw nozzle.
The ergonomics are perfect, the bottle holds perfectly in hand without creating any discomfort and provides a real feeling of solidity and quality. The bottle is made of translucent plastic and therefore makes it possible to control the level of the remaining product.
The 1L capacity is comfortable and makes it easy to calculate dilutions. A label affixed to the bottle allows the diluted product to be registered with only its dilution ration.
The sprayer is included.
 
WE APPRECIATE / APPRECIATE LESS
   Solid.

   Translucent materials.

   Chemical resistant.

   Adjustable spray.

   Lets you label the bottle with product & dilution.

   No graduation on the bottle.
 
DIRECTIONS:
The spray head can be screwed on and off :
Screw in the nozzle to obtain a fine and even jet.
Unscrew the nozzle to obtain a diffused jet as desired until a fine mist is obtained.
 
OUR ADVICES:
Use a piece of transparent tape that you can stick on the original label. This way, you may be able to delete your entries if you come to use your dilution bottle for a different product.